A City of One's Own 
Curated by Olivera Jokic
Opening Reception: March 23, 5pm-8pm
On view through April 6, 2019. 
Local Project: 11-27th 44th Rd Long Island City, NY 11101
http://localproject.org/2019/03/a-city-of-ones-own-03-23-19/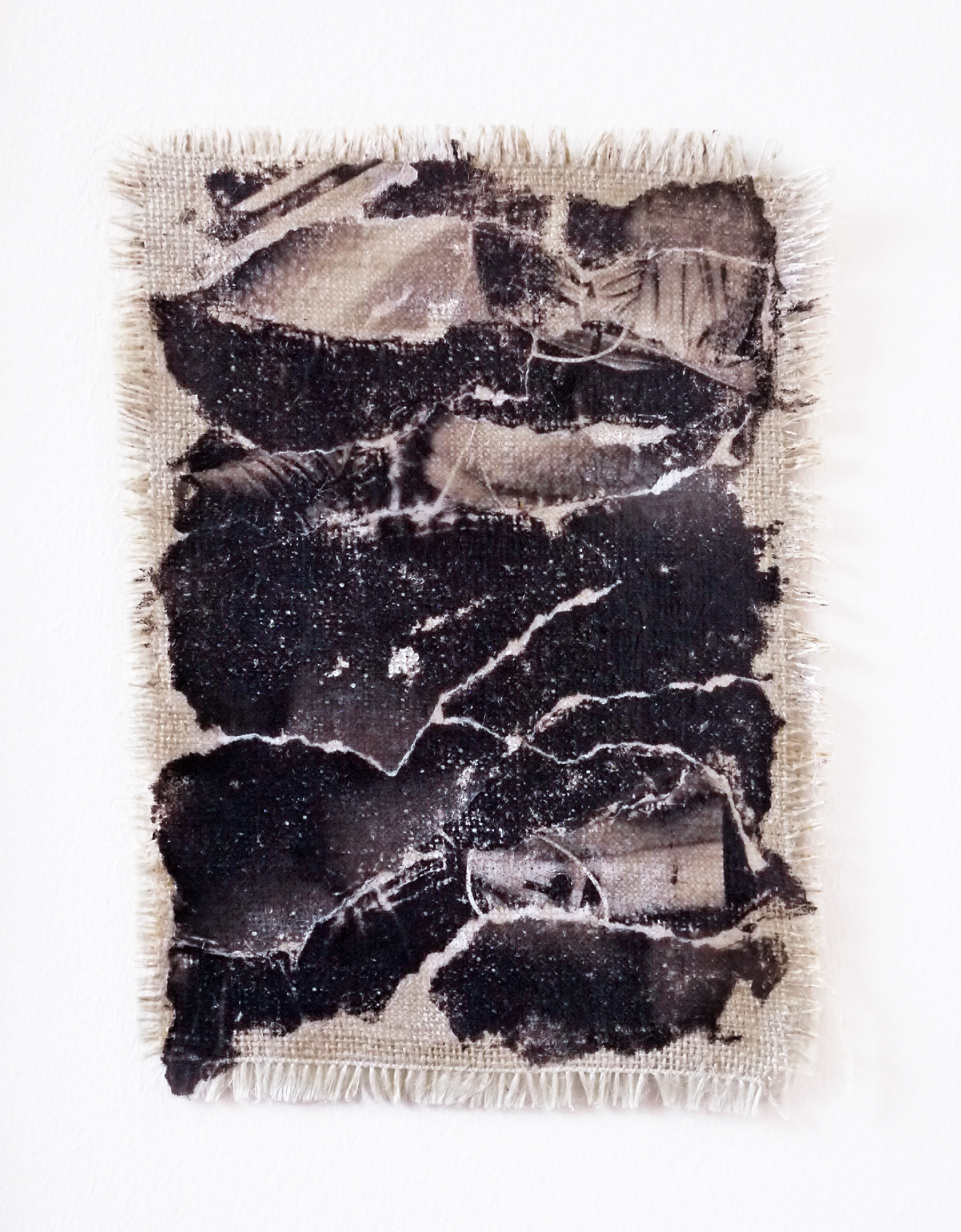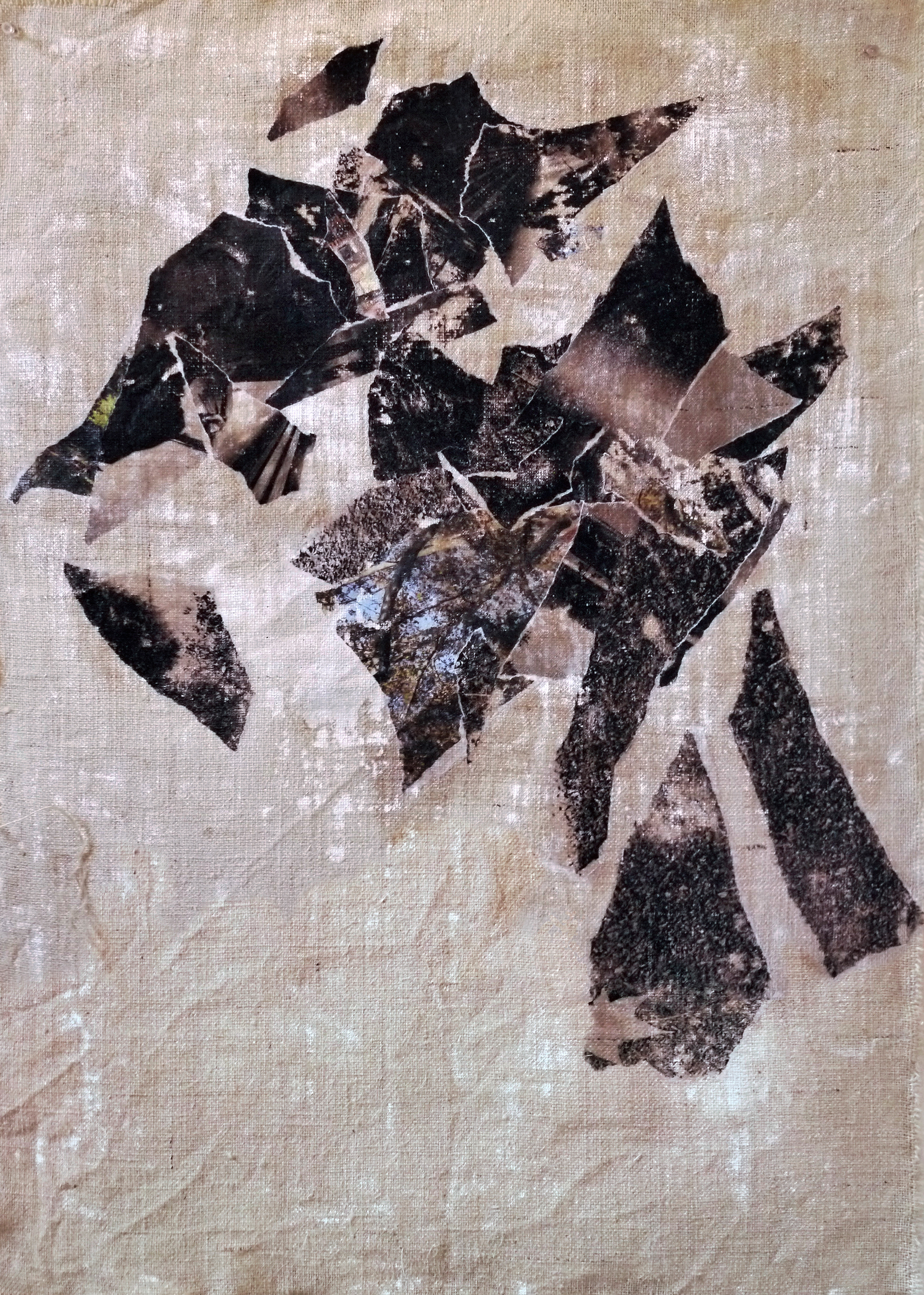 To live in the modern world, we ask: 
How are we surrounded by so many? 
How do we all live in the same place? 
Are we all different? 
Can we tell who's around just by looking? 
How many can we see with these eyes? 
How many do we wish to see?  

A City of One's Own shows these questions about being alive in the world. At this moment, it is being alive to New York, a global magnet for creatures in motion, home to millions and a way-station to millions more. Daniel A. Johnson, Beatriz E. Rodriguez, and Ruyin Tsai take New York City to be the home location and the defining circumstance of their work, the place that asks the loudest questions. They insist that urban space commands the nature and intensity of human interaction, and think about how individual figures and lives take shape in the moment of observation and against the backgrounds that make them visible. 
Their photography, painting, and video examine what it means to be visible and at what cost. In a city populated by millions, who are those we think we can live with? How many do we get to see, and why does urban human traffic often require that we disregard most of those we pass daily? A City of One's Own thinks about how we learn to see, and how technologies of vision have brought others to life by bringing them to our attention and our imagination. In an age of proliferating images of faces and actions, Johnson, Rodriguez, and Tsai examine what it means to treat one face (of a person, of a wall, of a word) as distinct from millions of others, and how urban environment makes individuation possible or necessary. 
Faced with relentless sensory input, how does one preserve boundaries or integrity of personhood, notions of privacy, the possibility of concentration? Histories of being easy to recognize suggest that being seen could be as bad as never being seen at all. So here a timely vision of the world that requires having a face—an identity: the best of times and the worst of times, our deepest desires and our greatest fears.  
Olivera Jokic, curator
Artists:
Beatriz Elena Rodriguez (born Colombia) works with black and white film photography as a medium for critical observation of social norms and stigma. Her attention to the work of these forces is a call to action: her photography aims to change the world by making visible the people who live in a kind of self-imposed isolation. In The Soloists, Rodriguez explores the connection people make with their personal space in which few routine human relationships occur. Grounding the project in the personal experience of years spent living alone, she examines how the domestic environment a lone person creates becomes a necessary source of comfort and, in many instances, an unintended attribute of an inner life transformed by solitude. Rodriguez's subjects, all of them 'going solo' at the time she started the project, opened their homes for her to witness and record their daily routines. Her pictures bring to viewers' attention the living worlds her subjects created, and challenge the common conceptions of living alone and the fear of solitude. These images make room for the pleasures of 'alone,' and of the growing number of people living it. Rodriguez works as a photographer in New York City, and uses a darkroom in Queens. 
Ruyin Tsai (born Taiwan) pursues apparent contradictions and complications that arise from the moments of human confusion and disorientation: when humans insist they have lost their way, what is it they think they wanted to know? The Homeland Diary visualizes the experience of immigrants and the language presumed to guide them as they seek a "homeland" by exploring and surviving in a new country. Newcomers to a language can see bits of it before they can see the whole. (They may never see the whole and may not wish to see it.) Tsai's work is a kind of collection—like an archive or a museum—of language-bits overheard in public and photographed in New York. The color of these diaries is the color of parchment, of papyrus, of old photographs, of burlap, reminiscent of historical documentation used by solid historians and of materials used by migrants and foragers for their makeshift homesteads. This is a view of language on the move, and of its users subject to adjustment. The one who keeps moving is hard to see, hard to know, one of those "anonymous" strangers in the crowd. Can such a user of such a language describe herself? Would she be cautious? Self-protective? Is she exploring or pursuing this city? Tsai arrived in New York to join the MFA in digital arts at Pratt. She was the 2018 resident of Trestle Gallery and 2017 winter resident in the Con Artist Collective.
Daniel AnTon Johnson (born Delaware) works across media and platforms tracing the effects of technology and popular culture on the ideas of individual authorship and possibilities of representation. Johnson explores the gaps in conversations about contemporary art, and approaches art as a community practice in which education cultivates a creative form of questioning. In the two videos, wut's all the fuckin' noise for and untitled, Johnson uses appropriation as a way to investigate media representations of race and masculinity. Splicing clips from the Internet he shifts their contexts, to offer unplanned juxtapositions out of which emerge new possibilities for building narratives about what it means to be young and black. The isolated figures of wut's all the fuckin' noise for become a meditation on what it may take to become an individual in North America today. Johnson received his MFA in photography, video, and related media from the School of Visual Arts. He has taught art there and elsewhere in New York.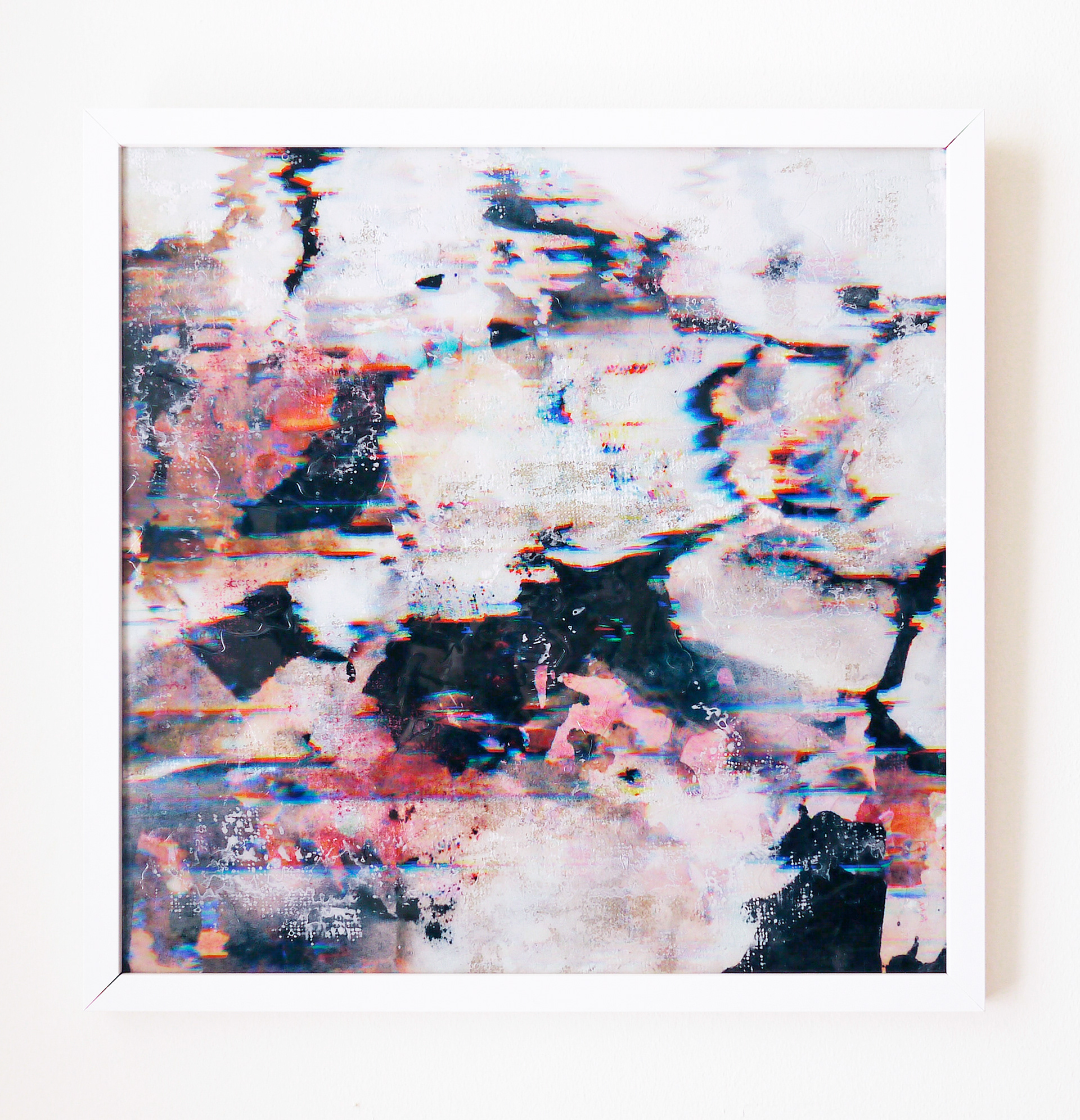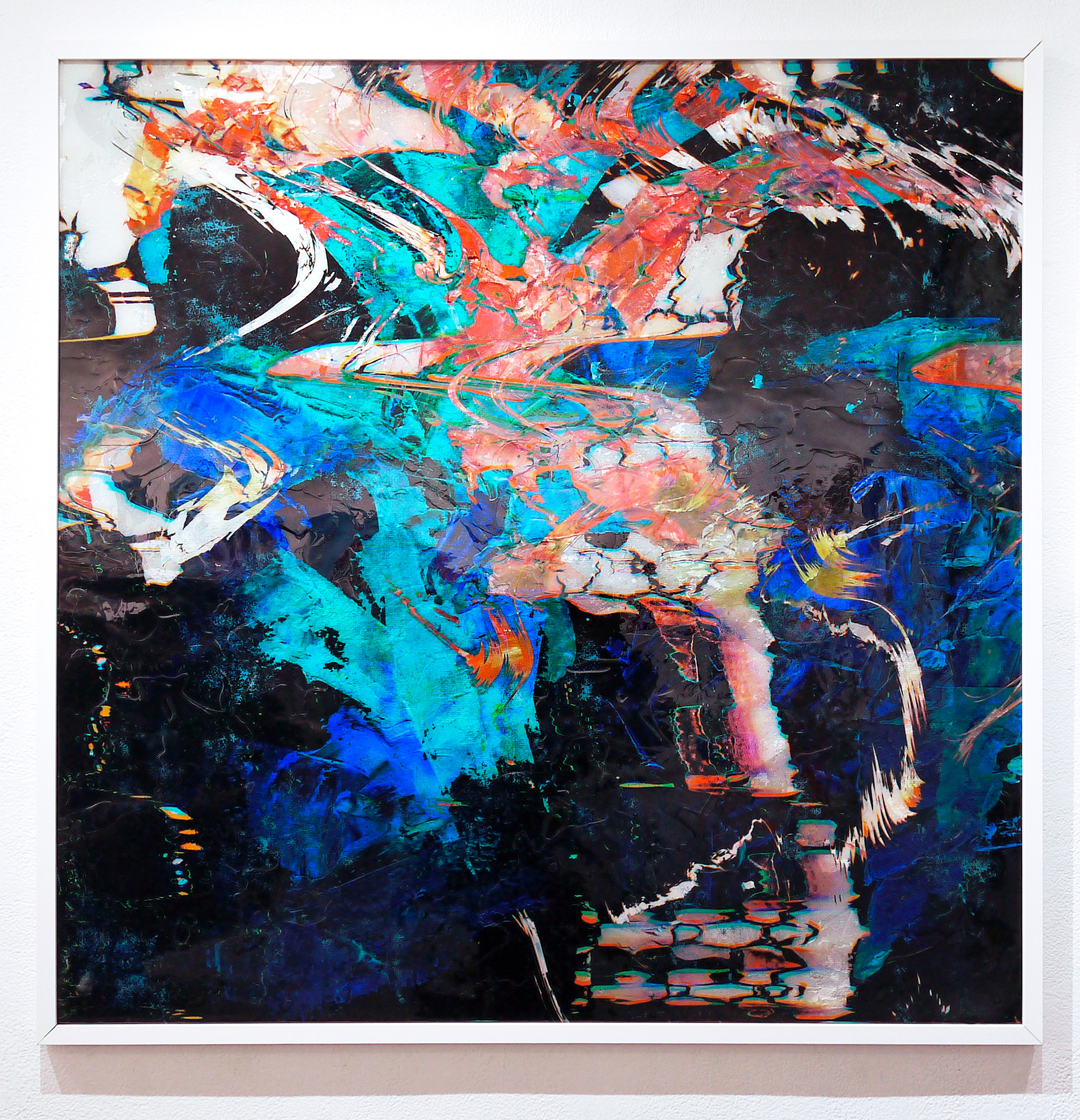 You Are A Nice Rat
(Left)
, 2018
16"x16", mixed medium, inkjet print, painting on canvas
That night a note visited me. Like a flood sprawling from the center of brain vessels, paralyzing the smell of streets, the dread of absurdity, the helplessness of optimism. Gone. He has been hiding in those flat gaps as perfect as I forgot to unveil the dust. Just let it rot with our skin. But he has never been peeling, knocking my door with a familiar, sky blue, gentle tune and several pieces of fluffy clouds. Saucers were giggling, I brewed two cups of earl grey for us. I stretched my fingers to tip into the clouds from twenty years ago. I felt it, I couldn't feel it.
35"x35", mixed medium, inkjet print, painting on canvas
That night the girl asked me for a dance. I knew all her canny sweet steps, chasing each other under the lemon sun, spinning around in the traces surrounded by spotted yellow orchids. I love every move of her rhythm, singing in beautiful words that I have never understood, never will I. I don't understand why I am the only one grew up and she is my forever rains. Every raindrop is a piece of yellow orchid flower, penetrating my particles deeply through every vacant spirit. I felt it, I couldn't feel it. I knew it, I couldn't feel it.
Ruyin Tsai is a Brooklyn based artist, originally from Taiwan, with an MFA in Digital Arts at Pratt Institute. She is the current resident of Trestle Gallery and former winter resident in Con Artist Collective. Ruyin is interested in contradictions and complications, using absurdity to point at the dilemmas of the world humans perceive. Her work is a conversation between hybrid species of digital images and physical elements, conveying the facts and doubts with a sense of alienation. She creates a thin piece of silent candy paper warping the lasting resistance against the existence of systems and individual, shouting a tiny intricate desire to be set free.